Somehow, I started tearing when I reached there.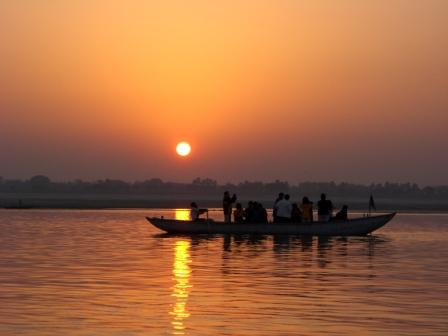 It has been awhile to cry in public after seeing something. In fact, it was only the second time for me this happened. The first time was when I looked at the African continent from the top of Mt. Kilimanjaro.
Well, I cry more easily than a normal person. People are amazed when they see me crying for any small happiness and sadness. Still, I don't cry without a reason. I rarely cry just looking at some scenery. This rare experience happened to me when I saw the holy river of Ganga.
One of the biggest motivation to visit India was to go to holy river of Ganga. For hindu, this is where people wish to come at least once in their life time. For those lucky ones who live close to the river, this is their bath, place for their laundry, meditation and the place where they all want to return once they die. Life and death are surreally real.
When I arrived to the Varanasi station, I couldn't believe what was there. The darkness, without enough illuminations, the only thing I could see was something moving in a monotone ocherous color. They were humans. When I looked carefully, they were humans on the floor. They were sleeping in the dark ocherous blankets wearing ocherous colored clothes. The white parts of their eyes were unearthy. I guess the place was just too dark and those people were just waiting for a train. Still, I wasn't so used to this atomosphere of two hundreds eye balls looking directly at me in darkness.
After a few hours of sleep, I headed to Ganga river to see sunrise. Outside was still dark but noise of people walking toward river prevailed. The sounds were coming from the locals, Thai priests in orange clothes, tourists and people selling twigs of teeth-brush trees.
Coming close to the river, I heard the bell and chanting from Hindu temple. The chanting echoed around and getting closer to the river, in this bell and chantinng echos, my eyes were dimmed with tears. I am not Hindu but this atmosphere is just so special and spiritual.
The sun came up and by the time, the echos of bells and chanting were so selene. People in the water prayed. I was just a tourist who visited there for an hour. Still, I could feel clearly that power of life and death were all there.
The river made me shed tears without any reason. Maybe, the river is so holy because anyone who goes there notices how small his/her existence is but also notices that even a drop of your tear could be a part of this big holy river.