Happy Saturday. What can you expect more than waking up late, reading a book in a bed with a cafe latte bowl right next to yourself and having a lazy Saturday afternoon in a cozy cafe. Well, that sounds like
Daisy
in
Great Gatsby
..
Today, I had a late afternoon tea at Cafe
Lotus
. My friend was knowledgeable enough to notice Mr.
Uichi Yamamoto
, the producer of the cafe who was sitting right next to us. The wall of the cafe were painted in bright pink and purple, which only made me think of the works by my favorite Mexican architect,
Luis Barragan
. I somehow wished if I could paint one of my wall at my place, too.
So we gathered. One of the friends works for government, another works for semi-private company and I work for THE private company. The mission of the organization we work for indeed was different from politics to economics and from public welfare to profit making. We all chose for what we aimed for with the idea of what we prioritize in life. But somehow I was perplexed.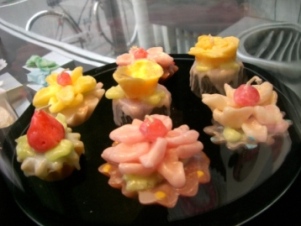 I decided to work in private organization because I knew private organization is the best place as theoretically it is the most efficient, effective, pleasant and least political. Yes, that was true after working for the company. By choosing these values, I didn't choose the values that non-private organizations may aim for, such as working for goods of society, despite the less efficient and potentially more political environment.
But wait, can't we ever aim for both? I was always this way. I wanted to be "Classical" and "Bohemian-chic", "Matured" and "Fresh", "Energetic" and "Selene". People say you can't get both! Am I too greedy or do I avoid to face the reality? In a bigger picture, we can never really differentiate the mission of an organization. Each organization should exist for the goods and happiness of earth, public, society and an individual. You are just dreaming, one will say. I am just dreaming, I will say. Then I just read a brilliant book called
Let my people go surfing
.
I was really perplexed in a pink and purple room but never in a negative way. It was a state of question for a possible break-through.