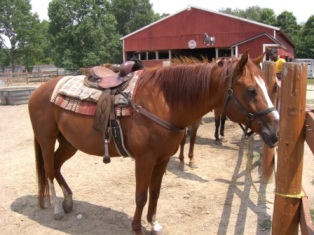 Every summer when I was a high schooler, my sister and I went to a summer camp held in the northern part of Michigan. In the U.S., it is popular that children go for staying over camp during their Summer Vacation which lasts as long as three months. My parents asked me if I was interested doing the same and they gave me brochures of differnt typs of camps offered with diverse activities to choose from. For me, my mind was clear. I wanted to devote a summer to one thing special rather than doing several activities and sports at the same time. So, my summer with horses have started.
The camp we went was unique in that we stayed over in a farm and ranch for two weeks or longer and most of the time, girls have spent taking horse back riding courses in the morning. As the camp was so unique, people usually came back to the farm summer to summer. Although I had only one chance to go for the camp as I was too old at that time, my sister had managed to return to the camp for the next few summers.
In the camp, we learn how to ride, walk, trot and canter. Once we were ready, we could practice for obstacles. Every girl has her favorite horse and mine was Smokey. He was a big horse!
Among all the things my parents have done to us children, the biggest appreciation goes to the fact they were so open-minded and let us try to do anything once we were interested in. One thing which made the situation even better was to study abroad when all the children of the same age had to struggle with the university enrance exams and more.
As I came back to Detroit, I have taken a horse ride at a State park not far from my house. How refreshing it was! The summer experience is non comparable to all the prep school study that most Japanese children have to do.