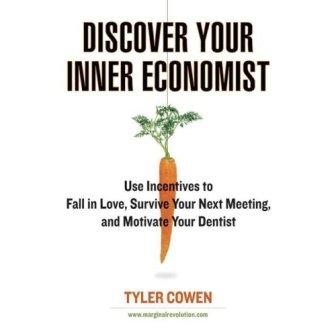 I happened to know the newly released book,
"Discover Your Inner Economist: Use Incentives to Fall in Love, Survive Your Next Meeting, and Motivate Your Dentist"
, by
PhD. Tyler Cowen
. I don't know much more than how the book is introduced and talked online as I am still waiting Amazon to ship me the book and in the midst of anticipation how the book will be.
As I know more about the author, I found that I should have known better. His blog,
Marginal Revolution
is one of the most popular blogs with smashing volume of accesses a day. On the other day, Mr.Cowen was in a radio show hosted by my favorite, Mr.
Tom Keene
, a CFA and Bloomberg host. In the show, with the quotes by Aristotle, Mr.Cowen has talked about "unhealthy" side of today's economy. That is , to name one, a lack of concern with other value.
He also mentioned about "Creative Destruction", the concept he introduced in his previous book, "
Creative Destruction: How Globalization Is Changing the World's Cultures
". Just looking at a review in Amazon, Washington Times described the book as "The book's basic point is that cultural globalization can increase the diversity of choices for the individual while reducing the diversity between societies across the globe". Hmm, Isn't it a bit contradictory? That is certainly the next book in the list, too.
Came from sociological and area study background, I have always been sceptical (sorry!! for those who have passionate in the topics I will mention now) for any theories where people try to draw a ground design that can explain any social phenomena as a whole. This scepetism goes for economics, finance, sociology, psychology or whatever social sciences you name. How can a scholar comes up with the ultimate theory that can explain the entire social status?
Being such a hard-headed, I could actually go well with Mr.Cowen's way of thinking. Maybe you and me, who live in everyday life already knows about economy even if we are not the greatest economists of time.
Saying that, I still feel that I should study Econ from more theoretical views. Too bad I didn't have any formal Econ trainings but it would not be too late. Hey, my friends, possible future Economists, teach me the theories! I will prepare myself with the mentality side of Economy, starting with books by Mr.Cowen.