"Hey, morning coffee. How is your day?"
That is the word I kept hearing everyday from year 1997-2000.
When I was in high school, I had a great relationship with my school councelor. Her name is Rose. She is now close to seventy years old and has retired from her work two years ago. As there is no retirement age in high school where I went, she worked until she turned to 65!
Before I could learn English and fully enjoy myself in high school, Rose was the lady who helped me with all the school matters. Unlike local kids, for me, my school concelor was more like a mental therapist, a supporter and a grandma.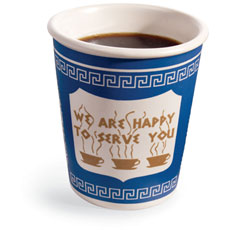 She is such a cheerful lady and I just walked into her room every morning before the first hour had started. For normal kids, couselor's room is a place you don't go unless you have some issues with your credits and you are asked to make a reservation with him/her. For me, I never had to because I went there too many times. As I walk into her room every single morning just to say good morning, Rose called me "my cup of morning coffee". She was my cup of morning coffee, too.
This summer, I met her again. Just like seven years ago, we met in the morning, this time with real black coffee. As we have more time now and as the school was closed during summer break, we headed to bagle shop where we had a bagle and a muffin.
How can a lady almost close to seventy years old be so open-minded, cheerful and full or enthusiasm to do many things? We talk about America, immigration laws, my jobs, love stories, healthy diet, travels she is going to take this summer to Itally with her brothers and sisters. Even aging is a fun thing for her. I asekd her what she did these days and she answered with a bright smile, "well, you know how old people have so much time. Even to think of our towels in the shower room, we can spend a day! Although I have dozens of towels at my home, I just searched for another one yesterday taking a day! Hahaha."
We had a much fun with a cup of morning coffee and she drove me to my parents. In the car, a memorable line she said kept in myself.
"Haruka, do you know what is the most scary thing in life? It is when a person stops challenging. I am very scared of not challenging than a challenge."
She did retired from her work, but certainly she will never retire from life. I will miss my cup of coffee lady in Michigan!