After ten hours of the flight delay from Detroit to NYC during the Midwest flood and the heavy blilzzard hitting the mid states, here I am enjoying the nice spring climate in the city. The airline N certainly turned down all the passengers as their flight at 17:05pm finally took off the Detroit Metropolitan Airport at 02:30am, we must have all thought our struggle has paid off after seeing this beautiful weather during the Easter Holiday.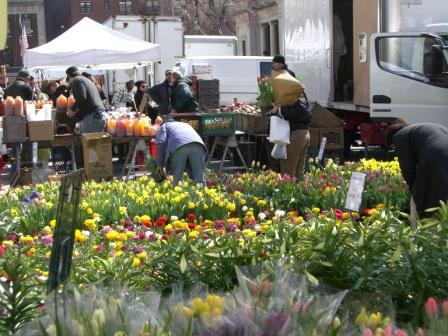 NYC has been NYC as always. Welcoming (or just does not really care) atmosphere of who comes in and goes out of the city, the buildings standing right next to each other with the exceptions of several parks and people with different skin colors, eye colors and hair colors are all there just like as always.
The stay here has been as fun as usual meeting all the buddies here and there. Old buddies and new friends all gather for dinner and drink. I had a chance to attend a Estonian community home party one night, which I found a very refreshing and somehow nostalgic. Certainly, Japan and Estonia are so far from each other but I found many similarities to the general nature of people; a bit shy at first but quite laid-back folks!
Another night was the Columbian food with my girls. We talked about the random things and we wondered, how did we end up talking about all those subjects? Then we would say, well that was because we are women..
Today being the Easter, many people paraded the fifth avenue. Every one of them had an uniquely decorated hat specially made for the day. Everyone is just welcoming the spring has finally come and so do I. It is pity to miss the cherry blossom in Japan but I will try to substitute it with other spring activities!