About 10 days ago the terrorist attack took place in Jaipur, the city of rose in India.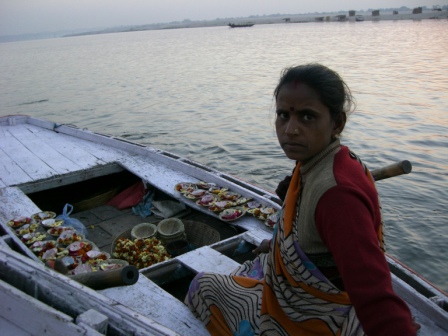 (The candle seller in Varanasi)
Fot the amounts of lives taken away from this attack is merely fifty some, and this maybe nothing compared to the disaster in Myanmar and in the Southern part of China. But this is not about the number. This is about man-made disaster.
We see terrorism. Here and there. At least we hear about them. How people's fury and sadness fire the extremity to the homicide and even to the suicide-bombing? The question gets rather silly when we can never understand the others' sorrow and opression as same way as they do sometime. We tend to look for the suspect when this vehement action may merely to find a scapegoat of the phenomenon that surrounds an action.
The cyclone in Myanmar and the earthquake in the Southern part of China. The size of natural-disaster gets bigger and bigger with shorter intervals. Then we hear the news of the secondary disaster from the defective constructions and the paranoids of logistics. The impact gets bigger as a human-made disaster in some extent.
Living in the risk society, the risk that surrounds us maybe the result of the humans' ego. In the world of globalization, the repercussion is enormous. In the either case mentioned above, I call it as a human-made disaster.
Do I look for salvation? Do I pray to the divining existence or to the bigger cosmo? Well probably not. I was just not born or not have lived with such mind. But I will probably think about how an action I take today may affect the others. How the society which is made of myself and other individuals treats the others may affect the action of people.
We may have different belief but that doesn't matter. One thing that we all share is the risk we face today. The political, economic, environmental and other uncertainties which pertuate and grow everywhere and may affect everyone, with some inequalities when it comes to the distribution of the risk.
This weekend, I run by to
a very nice candle
shop not too far from my neighbor. They make special candles and hold events using the candles. Lighting the candle won't change the world but it may help us think something about how we share the risk no matter where we are. The terrorism or the natural-disaster is not about them but it is whole result of risk society we created and we live in. Lightening candle was indeed to reflect my action to the bigger phenomenon and think about those I know, I care and I love here and around the globe.