Climber climbs mountain "because there is mountain".
I travel "because there are places to travel".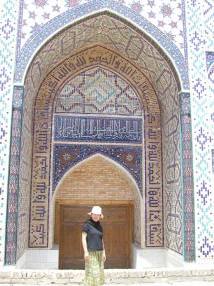 I have been crazy about travelling places to places since when I was a student. During daytime, I studied sociology, politics and philosophy at university and once sun went down, I rushed to Otemachi where I worked for a newspaper company. That was all for travelling.
I worked with journalists, picking up phones from the other side of the world (yes I had to identify which journalist was calling to who just by hearing his fist voice "hello" because most journalists were in such a rush when they were calling to Tokyo headquarter), checking photos from AP and Reuters, and even buying Perrier, coffee and bento for journalists (they didn't have time to do so by themselves). I finished my work between midnight to 3am and next morning I went back to normal student life again. It was a hard job but it did pay me well to cover some of the travel expenses.
Still, that didn't cover all the expenses. First I travelled places too far from Japan and stayed there too long. That was the time I had to beg my parents to rend me money. My parents (yes normal, happy Japnaese dad and mom) never understood why their daughter was crazy about travelling all the unusual destinations but they did at least understand it was something crucial for their daughter. So they came up with "Haruka's travel fund". We both hope the fund won't default.
After all the unusual experiences during university, I now work for one of the most "systematic", "anti-developing countries", and "non-chaotic" companies. I do appreciate what I have now but going through what I talked above, I do miss it sometime. Afterall, I can't give away my passion for travelling.
Saying all that, in Feburary, I decided to travel northern India. One biggest motivation is to see their artchitectures. In addition to that, India has something special. Just like the book by Endo Shusaku's
"Deep River"
, I want to see the place where life and death intercross.
We talk death in modern world today in such a negative context. Also, unnatural death such as suicides and killings in the war are much focused. That is a sad fact. I would like to feel life by experiencing how the death is considered there. India seems to be a perfect destination to consider many things we never care in Tokyo in the year 2007.